So, I'm gonna start off mentioning this is going to be a bit more of a personal post than usual, but with nearly a month (if it's not been a month or more) of no reviews or articles, I felt readers deserved an explanation of what's going on. Read on for that:
So, for everyone's sanity I'm not going to bore everyone with details, but stuff has been going on in my life that has been a source of stress and distraction, and needs to take priority. I am hopefully (keyword: Hopefully) near the end of this nonsense. And with it out of the way, I should be able to get back to what I should be doing: A weekly article of videogame curation, be it modern or retro. And I do have plenty of stuff in the pipe, it just needs to be fleshed out. So at the very least, I'll be providing a sneak peek of what's in store for future weeks.
To clarify, no, I'm not dying. I'm not sick, or anything of that nature. The most I feel comfortable saying is I'm trapped in a bureaucratic nightmare, but hopefully the light at the end of the tunnel isn't a freight-train. Now then, let's talk about what's coming:
RETRO CURATION: EARTHBOUND
This will be the first thing upon my hopefully triumphant return! Earthbound is easily one of the best JRPGs of the 90s, and one of the best games on the SNES in general. It's weird, it's wacky, it's just…Different. The good kind of different. Instead of a fantasy kingdom with swords, sorcery, and dragons? You're saving modern day Earth from an alien invasion with baseball bats and psychic powers. I'll give an overview of what it is, how it plays, what makes it so special.
SOULS GAMES: How I Got Okay (Because Screw Getting Gud)
This one isn't quite a curation, but more a combination of personal journey, and a guide. My goal with this is explain how a genre I initially hated turned into one I loved, and how you might just manage to do the same. A lot of people find themselves intimidated by Dark Souls and the like due to the fact they are presented as incredibly difficult games. The key word here is "difficult" as opposed to "impossible." You aren't going to find a bunch of in detail steps on how to make a broken build here, or individual boss strategies. What you will find are the lessons I learned in my journey through the Souls games, lessons that may almost seem obvious, but I've seen many players ignore.  This isn't meant to be a condescending "Git Gud" post, because I hate that phrase. No, this is more "Git Educated." Because knowledge IS power.
RETRO CURATION: SNES SHMUPS!
A lot of people will tell you that the SNES is not the best platform for Shoot Em Ups (AKA Shmups) and they wouldn't entirely be wrong. The Genesis/Megadrive and Turbo Grafx/PC Engine absolutely dominate the retro console shmup scene, but there *are* good shmups on the SNES, and I'm going to show you which ones are absolutely worth your time.
THE FINAL FANTASY PIXEL REMASTER SERIES
Some call them a cheap cash in, and while admit these remakes lack the amount of quality of some other remakes out there, I do consider the FF PR series a good way to experience Final Fantasy 1-6. I'll look through each individually, giving a rundown on how they play, what each one's about, and why I mostly love this classic collection aside from one particular entry. (Spoilers, it's 2.) I should note this will be one game at a time, not a single article with all six of them.
HYPER LIGHT DRIFTER: NEON SYNTH SOULS…KINDA?
I would consider Hyper Light Drifter a souls-like in the loosest of senses. Namely in terms of difficulty and its healing system. This is *borderline* souls, at the end of the day, and one could easily argue it's not really a souls-like at all and I wouldn't necessarily disagree with them. But whether it is one or not, what's important is that I love this game's music, artstyle, and combat. And I'm going to tell you why it's worth your time, and even a less skilled player shouldn't feel intimidated. Two words: Forgiving. Checkpoints.
GRAND CROSS RENOVATION: A SHMUP WHERE YOU RISK IT ALL, ALL THE TIME
Grand Cross came out of nowhere for me, but in a good way. It's a shmup that focuses on being surprisingly easy to pick up, despite its high-risk high-reward style gameplay. Its big gimmick is that one of your weapons is obscenely powerful, but costs your life meter to shoot. Your life meter DOES recover over time when not taking damage or using said weapon, but you score better the closer to death you are. So what we have here is a shmup that is about constantly living life on the edge, and let me tell you, it's a hell of a thrill-ride.
LIVE A LIVE: A MASTERFUL REMAKE OF A GAME YOU PROBABLY NEVER HEARD OF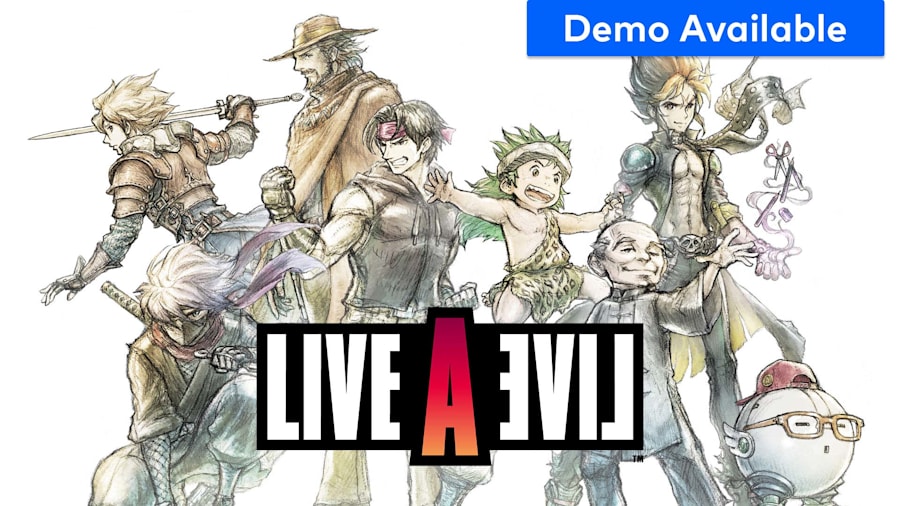 So a lot of people saw this revealed at Nintendo Direct and were like "Oh, another Octopath style game? Neat." People like me however, who experienced the 1994 Super Famicom masterpiece this is a remake of collectively lost our marbles. We could NOT believe we were seeing a full HD2D remake of this absolute gem of an RPG. Now that it's here, I can safely say it is amazing for both players new and old. I'll tell you why this is one Switch exclusive you absolutely cannot miss out on if you're any kind of JRPG player.
RUNE FACTORY 5: FARM LIFE FOR THE HACK N SLASH ENTHUSIAST
Are you one of those people who liked the idea of Stardew Valley, but you wished the combat aspect of it took more of a focus? Then buddy have I got a game for you. It may be a "farming sim" RPG on the surface, but that's just there to provide you with some much needed resources for dungeon crawling and monster slaying-Oh wait you don't actually kill monsters, you just send them home. Point is, I'm normally not one for life on the farm, but Rune Factory is an exception to that rule and I'll show you why.
WARRIORS OROCHI 3 ULTIMATE DEFINITIVE EDITION: A MOUTHFUL BUT AN ACCURATE TITLE
I love Musou games. While a casual gamer may look at them and go "Oh, you just mash one button all the time" and that might be true at times, it doesn't change the fact a good Musou (What they call Warriors games in Japan) can be an absolute blast as you cut down thousands of enemy troops over the course of a battle. Warriors Orochi 3 Ultimate has always been my favorite Musou title of all time, and now it's available for PC players so they too can see why it's such a blast to play. 
DOOM 64: OVERLOOKED AND UNDERAPPRECIATED
Doom 64 is honestly one of the best Doom games ever made. It often got overlooked though due to being released at a time when Doom's format was dying, as Quake had begun to take focus. This was a shame, because Doom 64 is honestly my favorite "classic" Doom game, moreso than Doom 2. It's been given new life thanks to NightDive, and I'm going to tell you why you need to play it.
METROID DREAD: A CHAMPION'S OVERDUE RETURN
Metroid Dread was a game nobody saw coming, but so many lost their minds over the reveal of. A true Metroid 5, a sequel to Fusion and another traditional side view Metroid. Many were worried at first with the reveal that MercurySteam, devs of the mixed reception Samus Returns were at the helm, but this turned out to be a welcome return to glory for a franchise many of us had written off for dead.
SUPER ROBOT WARS 30: AVENGERS ENDGAME IS THE MOST AMBITIOUS CROSSOVER MY GIANT METAL FOOT
Super Robot Wars is a franchise that most giant robot anime fans know and love, though some surprisingly don't. And I'm going to show you why this franchise and this 30th anniversary title in particular kick all kinds of giant metal butt. The 30th anniversary entry in a long running strategy RPG series about countless Japanese giant robot animes (AKA Mecha) is a good one, and this entry getting a US release was a wonderful surprise.
OVERLOAD: PREPARE FOR DESCENT 4 IN ALL BUT NAME
Descent was a niche FPS with a unique premise: You piloted a spaceship through large underground mine complexes across the solar system. This meant you had a full range of movement in all directions, as well as full 360 aiming capability as you were flying a space-ship and effectively moving as if in Zero Gravity. It was crazy, it was downright overwhelming at times, but the team got back together to bring us a spiritual successor that is absolutely amazing…Just be careful about playing in VR if you have motion sickness issues…